Prosecutor, special agent honored for cybercrime crackdown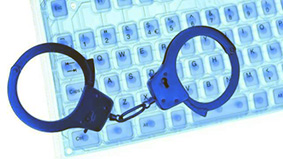 LAS VEGAS — A federal prosecutor and U.S. immigration agent who participated in the investigation and prosecution of the highly sophisticated international cybercrime organization known as Carder.su were honored Tuesday in Phoenix by the International Association of Financial Crimes Investigators.
Assistant U.S. Attorney Kimberly Frayn of the U.S. Attorney's Office in Nevada received the William D. Neumann Prosecutor of the Year Award for her work as the primary prosecutor in the Las Vegas case, known as Operation Open Market. Special Agent Michael Adams of U.S. Immigration and Customs Enforcement's Homeland Security Investigations in Las Vegas received the Cyber Investigations Contributor of the Year award for his efforts as the case agent in Operation Open Market.
"It pleases me that AUSA Frayn and Special Agent Adams have been recognized by an international association for their superior work and efforts in fighting financial fraud," Nevada's U.S. Attorney Daniel Bogden said. "The investigation and prosecution of a cybercrime case requires special skills and expertise, as well as diligence and tenaciousness of character. AUSA Frayn and Special Agent Adams have all of those qualities combined, which has led to successful court cases and convictions."
Operation Open Market resulted in federal criminal charges against 56 individuals. The defendants are charged with conspiracy to participate in a racketeer influenced corrupt organization, trafficking in compromised credit card account data and counterfeit identifications, money laundering, narcotics trafficking and computer crimes. There are 25 individuals who have been convicted, and the rest are either fugitives or are pending trial in Las Vegas.
Sourse: 8newsnow.com